Screen laptop faults
Trilogic are specialists in laptop repair, from a power connector fix to motherboard component change. Beware companies offering a fixed laptop repair cost as all faults are different! Trilogic will quickly give you a FREE QUOTATION before undertaking any notebook or laptop repair. Just complete the enquiry form or telephone us now for immediate help with any laptop repair.
Badly Cracked Screen Fault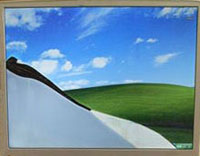 Backlight Fault With Ghost Image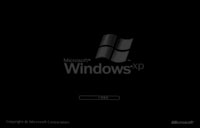 Laptop screens
can fail in many ways; the screen may be cracked, smashed or leaking 'ink', it may show lines, random characters, white or black dots or show a very dark ghost image. Cracks may be caused by accident, or sometimes when the lid is opened quickly against stiff hinges. If the screen shows any signs of physical damage, including loosing 'ink', then it must be replaced; it cannot be economically repaired.If the screen shows lines, dots or random characters then the fault may be either caused by a faulty screen, motherboard fault or defective cable where it passes through the laptop hinge.
A very dark screen (ghost image) can be caused by a faulty screen, but is more likely to be caused by the back light not illuminating. Back light illumination is very complex, faults usually occur due to either a broken back light lamp, failed high voltage inverter, broken cable, faulty motherboard or faulty switch.
So what looks at first sight like a screen fault may not be but caused by another component, screen replacement is expensive £100 – £500 but other causes are considerably cheaper at £40 – £300.
Screen replacement is NOT a DIY job, as pressure in the wrong place during installation will crack the screen; and wrong diagnosis of the cause of the fault will result in the wrong item being replaced.
Trilogic can repair any of the faults listed above including those caused by motherboard failure.