Trilogic laptop and notebook power connector faults
Trilogic are specialists in laptop repair, from a power connector fix to motherboard component change. Beware companies offering a fixed laptop repair cost as all faults are different! Trilogic will quickly give you a FREE QUOTATION before undertaking any notebook or laptop repair. Just complete the enquiry form or telephone us now for immediate help with any laptop repair.
Broken Power Connector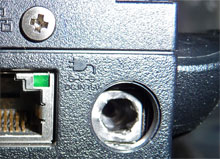 Repaired Power Connector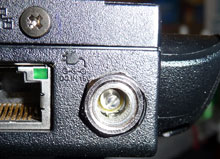 Power connector failure is one of the commonest laptop faults and may show one or more of these symptoms:-1. Wiggling the power connector may cause the charging light to come on briefly or only when the connector is wedged at an angle.
2. The charging light may not illuminate no matter what angle the connector is moved to.
3. The battery may discharge when the laptop is turned on but charge ok when its off.
4. A burning smell may be noticed when the laptop is powered on or when charging from the mains.
5. You may notice that the power connector is hot when you remove the plug.The power connector used on most laptops is of very poor design as the strain of insertion and movement is taken by a few solder joints on the connector where it joins the motherboard, thus failure occurs due to metal fatigue of the solder joints. Complete failure may not occur this is why wiggling the connector can often cause the laptop to start charging again. However, it can equally cause the connection to heat up and burn.
Trilogic does not usually use the manufacturer's original power connector for repairs as it will often fail again in 1 – 6 months. We use a nutted power connector. As you can see from the picture it looks almost the same as the original except it is secured firmly to the laptop case by a nut and internally links to the motherboard by flexible cables. Therefore, it does not matter how you wiggle the connector it will not fracture where it connects to the motherboard.
Trilogic can usually repair the motherboard if it has been burnt around the power connector, so don't worry if it failed with a burning smell.
Sometimes it is necessary to replace the power plug on the end of the power supply. We will usually do this free when we replace the connector.
Power connector replacement looks deceptively easy from the pictures, but it is a skilled job requiring experience and care, as there is very little room inside the laptop; this is definitely NOT a DIY job.
Trilogic can usually replace the power socket in your laptop within 24hrs, but if it's urgent we can usually offer a same day service, but you MUST phone first.