Laptop motherboards fixed & repaired
Trilogic are specialists in laptop repair, from a power connector fix to motherboard component change. Beware companies offering a fixed laptop repair cost as all faults are different! Trilogic will quickly give you a FREE QUOTATION before undertaking any notebook or laptop repair. Just complete the enquiry form or telephone us now for immediate help with any laptop repair.
Typical Laptop Motherboard
Magnification Of The Motherboard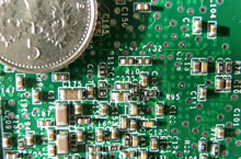 Laptop motherboard repairs
are not easy! The image on the left shows a typical motherboard, there is a 5p coin in the middle to give some idea of size. The image below is an enlargement of the area near the coin. If you look carefully you will see little oblong blocks – these are typical electronic components that fail on a motherboard. There are literally thousands on both sides of the motherboard. Additionally, there are many chips also. Any one or more components can fail on a laptop motherboard causing it to malfunction.We have much experience in repairing laptop motherboards and can usually identify and replace the defective component.It is considerably cheaper to repair a laptop motherboard rather than replace it with new unit. We make NO CHARGE for giving you a repair quotation even though this involves removing the motherboard and locating the fault.
Motherboard repair times are typically 3 – 4 days depending on component availability. Some motherboards cannot be repaired particularly if fluid has been spilt and the laptop has been turned on! If for any reason the motherboard cannot be repaired, we will quote for a replacement unit and let you decide.
Beware of repairers offering very cheap 'new' motherboard replacements as they may be using old pullouts from scrapped laptops which will probably be prone to the same fault that you already have!