Broken Laptop Keyboard
Trilogic are specialists in laptop repair, from a power connector fix to motherboard component change. Beware companies offering a fixed laptop repair cost as all faults are different! Trilogic will quickly give you a FREE QUOTATION before undertaking any notebook or laptop repair. Just complete the enquiry form or telephone us now for immediate help with any laptop repair.
Keyboard With Damaged Key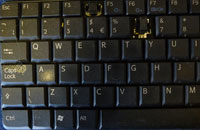 Magnification Of Key Showing Support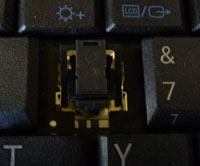 Keyboard faults
mostly occur when either fluid is spilt on it or keys become detached. A keyboard is generally a low tech device with no electronics just membrane switches. The problem is that if any fluid leaks between the membrane then electrical contact cannot be made and a key or keys fail. Unfortunately, even if you succeed in drying out the keyboard the electrical contacts will be 'dirty' and certain keys will not operate properly. The only reliable way to fix this fault is to change the complete keyboard at between £25 – £130 depending on make.If just one key has fallen off it may be possible to relocate it properly, however, there is a plastic bridge on many keyboards that breaks meaning that a new keyboard will be required.
If your keyboard will not work at all then it may be that the connecting cable has detached from the motherboard or there is a fault on the motherboard rendering the keyboard inactive, we should be able to fix either fault.
Please contact us via the enquiry form or telephone for advice.