Laptop Fluid Spill
Trilogic are specialists in laptop repair, from a power connector fix to motherboard component change. Beware companies offering a fixed laptop repair cost as all faults are different! Trilogic will quickly give you a FREE QUOTATION before undertaking any notebook or laptop repair. Just complete the enquiry form or telephone us now for immediate help with any laptop repair.
Fluid Damage To Laptop Motherboard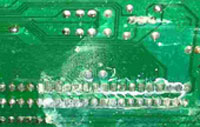 Fluid spills
on a laptop can render it useless! Even the smallest drop can result in severe damage. The picture on the left shows a circuit board with corrosion caused by water. If you have an accident and spill fluid on your laptop IMMEDIATELY remove the power lead and remove the battery, do not close it down properly just cut the power. Turn the laptop upside down and try to drain as much fluid as possible. Send or bring to Trilogic, so we can deconstruct it and clean/dry the circuit board. DO NOT TURN ON the laptop even after several days of drying as you will damage it as a tiny drop of fluid still on the motherboard will potentially render it useless.If fluid has entered the keyboard then it will usually need replacing because it is impossible to remove all fluid from the membrane layers. Other components from inside the laptop are rarely damaged by fluid.
As a footnote if you turn on a laptop that has fluid on the motherboard it will usually work for 5-10mins then completely fail; this is because the electric current will corrode the metal from the circuit board rendering it useless and usually beyond repair.
Please contact us via the enquiry form or telephone for advice.