Case Hinge Repair
Trilogic are specialists in laptop repair, from a power connector fix to motherboard component change. Beware companies offering a fixed laptop repair cost as all faults are different! Trilogic will quickly give you a FREE QUOTATION before undertaking any notebook or laptop repair. Just complete the enquiry form or telephone us now for immediate help with any laptop repair.
Damaged Case From Dropped Laptop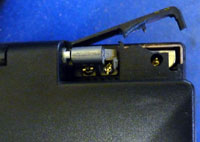 Magnification Of Hinge On Laptop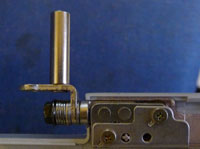 Case and hinge damage will not usually affect the operation of the laptop but looks awful. Although, broken hinge, may result in a cracked screen if the lid is not opened/closed very carefully. Often one side of the hinge is bonded to part of the plastic case so replacement of one or both hinges may require changing part of the plastic case. Some makes of laptop always seem to show exactly the same case cracks even during normal use, so replacement cases in these instances may not be sensible. Typical case/hinge repairs cost £20 – £150 but often the replacement parts are impossible to obtain.Please contact us via the enquiry form or telephone for advice.