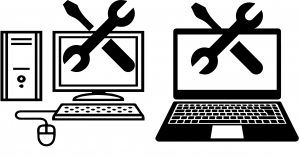 Please do one of the following to benefit from Trilogic repair services:-
1. TELEPHONE US
2. SEND US YOUR LAPTOP and POWER SUPPLY or
3. CALL IN PERSON WITH YOUR LAPTOP and POWER SUPPLY
When sending your laptop to us, we recommend you use the PO Special Delivery. This will arrive with us before 1pm next day and is automatically insured for £500 (or up to £2500 provided you tell the PO the value when sending). The cost is the same between 2kg – 10kg so it is wise to use lots of good-quality packaging as it is your responsibility to ensure that the laptop is packed properly or the PO will not pay for any damage.
Please only send the laptop and power supply unit and perhaps the setup disks depending on the fault. Do NOT send the mains lead as we do not need it.
Please remember to include your name, address, phone number and fault description.
We will contact you shortly after we receive your laptop with a repair cost.
Please read our terms and conditions before sending your laptop to us.
Click Here For Our Enquiry Form
Quotations Are Free
Opening hours:-
Monday-Friday 8.30am-6.00pm, Saturday 8.30am-4pm, Sunday closed
We will answer Email questions 24hrs a day including Sundays.
Send or Bring ALL Repairs to:-
Repairs Department
Trilogic UK Ltd
828 Manchester Road
Bradford
West Yorkshire
BD5 8DJ
United Kingdom
Telephone
Switchboard
Tel 01274 402244
email
customerservices@trilogicuk.co.uk
sales@trilogicuk.co.uk
repairs@trilogicuk.co.uk